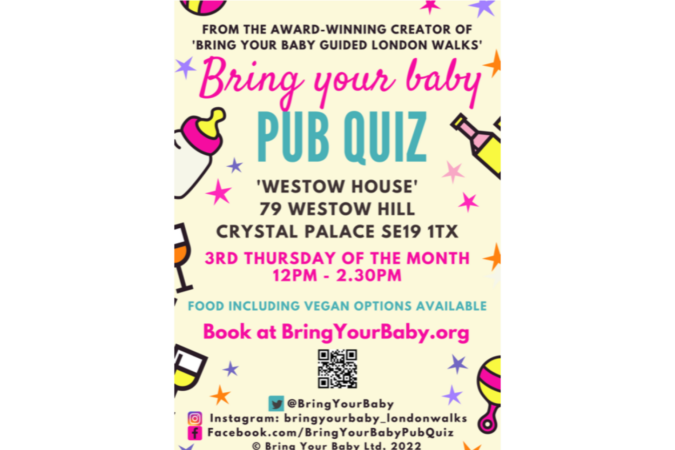 From the award-winning creator of 'Bring Your Baby Guided London Walks', 'Bring Your Baby Pub Quizzes' are fun, brain-stimulating daytime parent socials, which take place all over London. Held at Westow House on the third Thursday of every month.
Team size is 6 maximum.
Quizzes take a slower pace than traditional ones. We take two breaks to feed, change and chat, and questions are always repeated.
Toddlers are welcome, but are the parent or carer's responsibility. Please bring suitable toys and games to entertain them while you quiz!
Settle in with the picture round from 12pm, with a further five quiz rounds (including general knowledge, music, connection and themed) starting at 12.30pm until 2.30pm. Don't panic if you're a bit late – we repeat questions.
A lunch menu including vegan and gluten-free options is available.
Baby change is available, including our legendary mobile baby change which means you don't need to leave the quiz to change baby! A number of high chairs are also available.
Prizes for 1st, 2nd & 3rd places include items such as Prosecco, wine, Hotel Chocolat boxes and beauty boxes. The prizes are for you, not the babies!
Book tickets here.
Upcoming dates:
Thursday 16th June 2022, 12pm-2.30pm

Thursday 21st July 2022, 12pm-2.30pm

Thursday 18th August 2022, 12pm-2.30pm

Thursday 15th September 2022, 12pm-2.30pm

Thursday 20th October 2022, 12pm-2.30pm

Thursday 17th November 2022, 12pm-2.30pm

Thursday 15th December 2022, 12pm-2.30pm